the second opinion when you need it most
The CONTEXT Specialist System enables patients to access a network of clinical specialists for second opinion advice regarding their specific medical needs. There are times when a patient receives clinical information their doctor and leaves with many questions potentially unanswered. The team at Context Health have a large network of specialists across many medical and surgical disciplines that can assist with answering some of these questions. We strongly believe that our specialists can assess clinical data that the patient provides in order to pose questions to your treating clinician so that a fully informed decision can be made: it is not designed to move the patient care from their own specialist.
CONTEXT Specialist provides a Concierge service that patients can access directly.
Any relevant clinically relevant data (letters, scan reports, blood tests, etc.) can be sent to the Concierge for an initial triage (sorting).
The Concierge searches the CONTEXT Specialist Network to find the right clinician for the problem.
The chosen clinicians are contacted to confirm whether they are able and willing to offer their specialist opinion.
Any fees are agreed on both sides before the specialist opinion can be given.
Patient receives Second Opinion.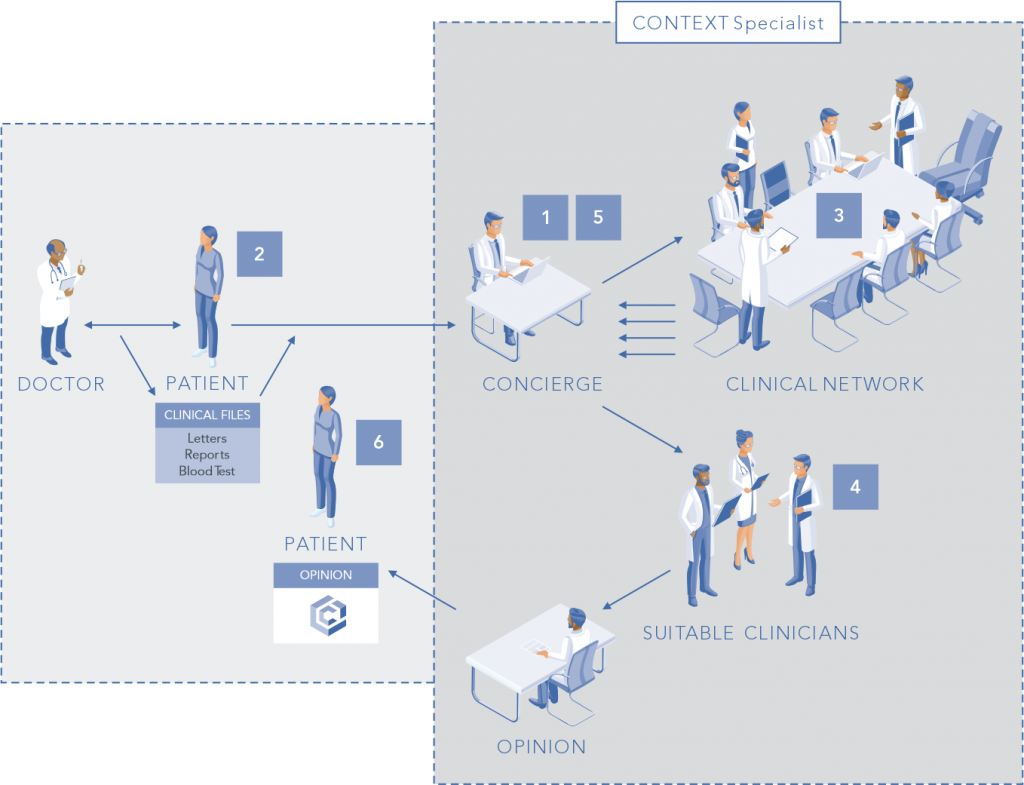 Patients have always put their trust in the clinicians in order to get the best medical and surgical advice and treatments.
The explosion of the Internet has led to a mass of bewildering information without context.
Patients often leave consultations unsatisfied with many questions unanswered.
Our Network has a critical mass of clinicians that can be approached to give opinions on the varied problems presented.
Our current focus is cancer, however, as the Network grows, we will be able to offer a wider spectrum of specialties for opinions.
Our specialists can sort such information so that the patient literally ask the right questions.

REGISTERED ADDRESS:
The Old Chapel Business Centre,
33 Church Street, Coggeshall, Essex CO6 1TX, UK.
Company Registration No. 09528497
Hudson House
8 Albany Street
Edinburgh EH1 3QB
Tel: +44 (0)1245 468 678
138 Cecil Street
#13-02 Cecil Court
Singapore 069538
Tel:+65 (3) 7652 1998