It is essential that the eMDT solution provides the following:
Governance standards and data security maintained at all times.
Technology should not get in the way of delivering best clinical care.
Standardised, repeatable outcome with audit in place.
Accessibility and flexibility in the clinical environment.
Enhances the patient pathway, reducing delays that currently exist.
Adopt new ways of working to improve patient care delivery.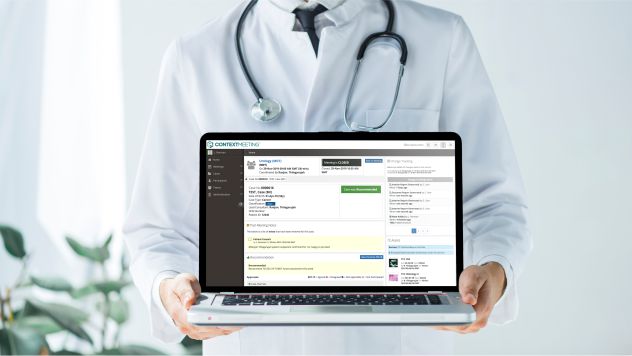 FEATURES OF THE CONTEXT MEETINGTM SYSTEM
CONTEXT MeetingTM SYSTEM has many advantages over the current MDT processes used in Healthcare:

Secure access to the Platform using your own tablet, laptop, smartphone* or desktop).

Enabling flexible access for all attendees.

Tasks are drastically reduced in the preparation of the meeting.

Complete visibility of meetings, your patient cases, outcome reports.

TELECONFERENCING CAPABILITIES
Complies with the spirit of MDT (NHS Improving Outcomes Guidance).

Remains at the heart of the System infrastructure to protect both patients and clinicians.

ASYNCHRONOUS QUORACY (AQ)
Enables a stepwise clinical plan to build in advance of the MDT Recommendation sign off.

The function by which users can be asked for an opinion that can be fed into the upcoming MDT.

This function runs in the background to confirm compliance is fully adhered to.

Audit of all activity within the System to demonstrate compliance and governance of practice at all times.

OUTCOME REPORT GENERATION
The MDT data assets and Outcome Recommendation are immediately available.

PACS Radiology and Digital Pathology are components required within the MDT with assured data security for the host systems.
* Although it is possible to use a smartphone to join a CONTEXT Meeting, we advise against this, as the ability to obtain the full MDT experience is limited due to the small screen size.
ROUTINE MDT TO CONTEXT MEETINGTM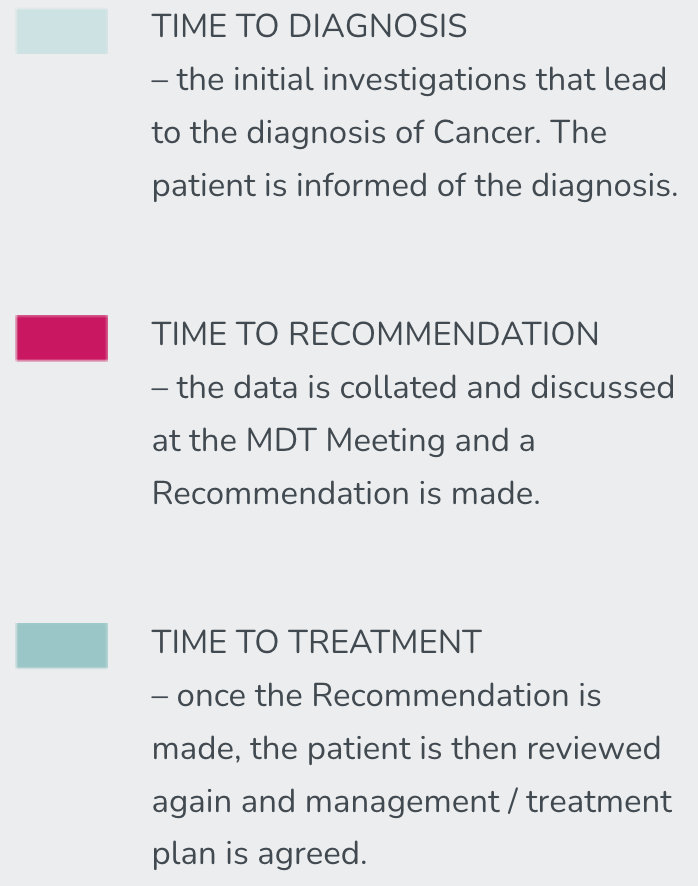 COMPONENTS OF AN EFFECTIVE MDT
Complex patient care requires effective mechanisms in place to ensure compliance with best practice measures.
Governance goes hand in hand with compliance to conform that practices are of a recognised high standard this purpose.
Patient data must remain confidential at all times with strict adherence to GDPR, including safe handling, storage and disposal of this sensitive data as required.
The process must be 'clinically relevant', following the current model of face-to-face meetings with flexibility and ease of use without the technology getting in the way.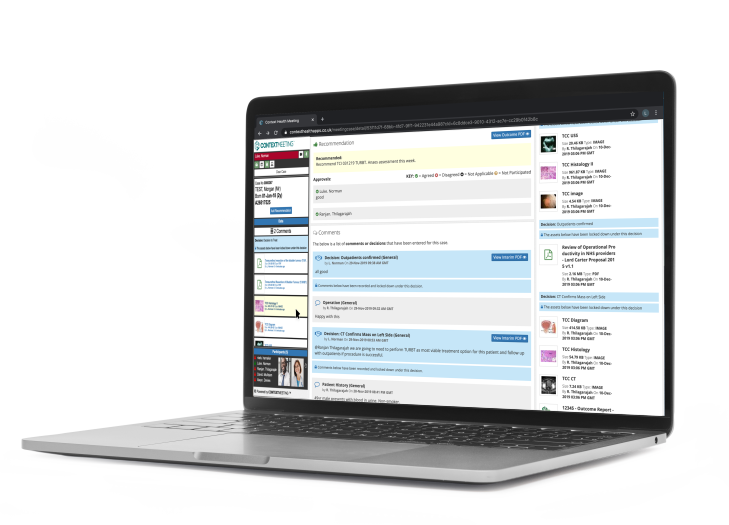 Audit of all activity relating to the functioning of the MDT in order to facilitate examination of the process at any time.
Clinicians may miss MDT meetings as they are on different sites.
Current MDTs are still largely paper based with a huge administration
cost attached.
Large number of cases are discussed which leads to time constraint issues.
Meetings are fixed with a lack of flexibility that leads to delays in the
patient pathway.
Expensive hardware is required to perform MDTs across hospital sites.
Remote access from anywhere using a laptop or tablet.
All data sits within the system.
Cases can be previewed in advance of the meeting, thereby making more efficient use of the time within the meeting.
Asynchronous Quoracy function can sign off case discussion prior, reducing the workload within the live meeting.
Existing hardware can be utilised if required with no additional costs incurred.
"It's not an exaggeration to say that our MDT would not work without the Context platform. The platform is easy and intuitive to use. Most importantly, the asynchronous quoracy means that it very much fits in to our busy schedules. This allows us to achieve robust MDT outcomes for patients without having to have everyone present at a single meeting. Very impressive!"
Dr Dan Henderson, Consultant Clinical Oncologist,
Birmingham Breast Group
"As a Practice Manager I have been using the Context Health eMDT platform for the past 2 years and it has allowed our cancer team to drastically reduce the time taken from diagnosis to treatment for our patients. The ability to collate and present patient cases and record recommendations in a virtual meeting of this type has made my job so much easier!"
Michelle Drayton, Practice Manager,
Essex Urology Ltd
"I have been using the Context Health platform for a couple of years for our MDT's. As a coordinator I have found it easy to use. Recent upgrades & improvements have made it more user friendly for users. Context Health IT support is always readily available to provide additional support should it be needed too."
Joanne Hill, CNS Breast Care Nurse,
Ramsay Healthcare

REGISTERED ADDRESS:
The Old Chapel Business Centre,
33 Church Street, Coggeshall, Essex CO6 1TX, UK.
Company Registration No. 09528497
Hudson House
8 Albany Street
Edinburgh EH1 3QB
Tel: +44 (0)1245 468 678
138 Cecil Street
#13-02 Cecil Court
Singapore 069538
Tel:+65 (3) 7652 1998