1. You will receive an email from context meeting instructing you to set your password. Please click the 'set your password link a the bottom of the email to proceed to step 2.
2. You will be take to a page in your default internet browser to set your password and then confirm you chosen password. Once you can filled in these fields, click the 'SET PASSWORD' button.
3. You can then use the email address (that you received the email from) and enter your newly set password to sign into the Context Meeting Platform by clicking 'NEXT'.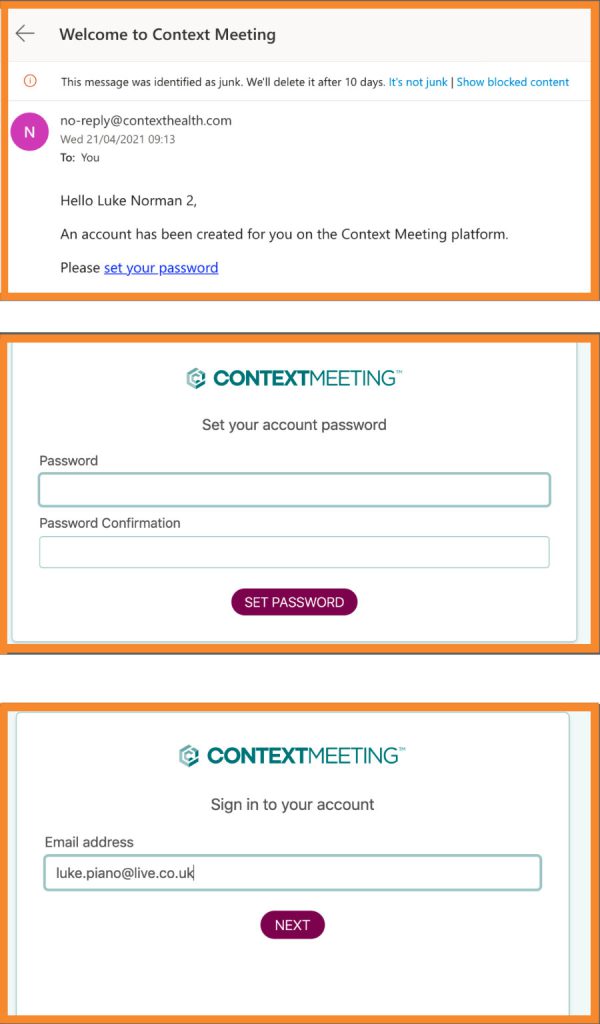 As a user of Context Meeting you will have the ability to amend your clinical details as-well as notification preferences and timezone. You can edit this profile from the side menu of the home-screen using the edit button displayed under the email address.
On your edit profile page, you will be able to amend the following fields:
– First Name & Surname
– Professional title
– Specialty
Please note, it is important to ensure your details are up to date and correct as they will be presented throughout the system as well as in the case and meeting reports generated. We also offer system preferences to configure your timezone and preferred language.
You can edit your profile by the side menu panel of Context Meeting and clicking the button.
Please note: Fields marked with an asterisk are required to update your profile. Once you have filled in the relevant fields to update or amend your user profile, click 'update user' to save your changes. When changing your Language and timezone, you will also have to save the changes made by clicking 'update system preferences'.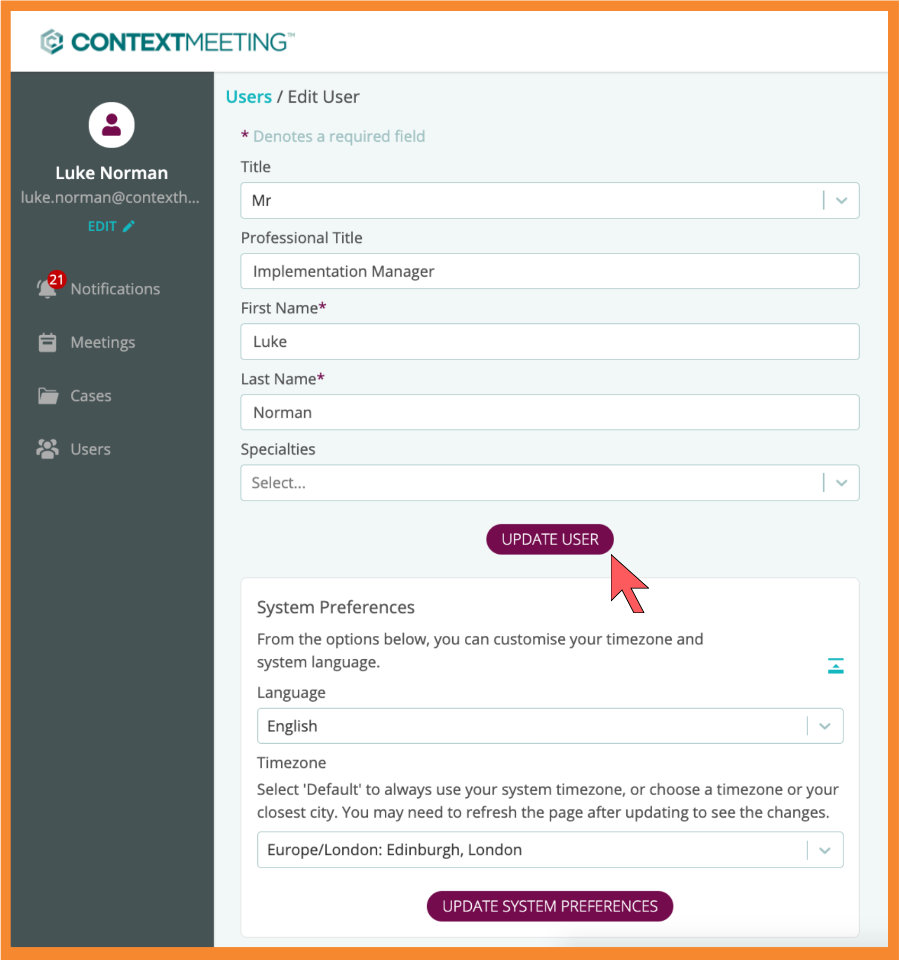 The system optimises user experience with notifications to keep you up to date on clinical decisions and evidence against case files. These will be presented both within the Context Meeting platform as well as an email sent (prompt after 15 minutes if haven't signed into the system).
Primarily, Notifications feature in active comments where you can mention/ be mentioned on a case or meeting. This can be performed by using the '@' symbol in the comment box to generate a list of members relevant to the case or meeting. Once the comment has been saved, you will receive a system prompt and an email informing you of the mention.
Notifications will also be used for the following:
– Meeting invites
– Recommendation approvals
You can access your notifications by simply clicking 'Notifications' on the left hand side menu. The red number next to this section will tell you how many unread notifications you have. 
In your notifications section,  you can 'view details' of the notification which will take you directly to the case or meeting. If you want to clear your notification inbox you can simply click 'Mark all as Read'.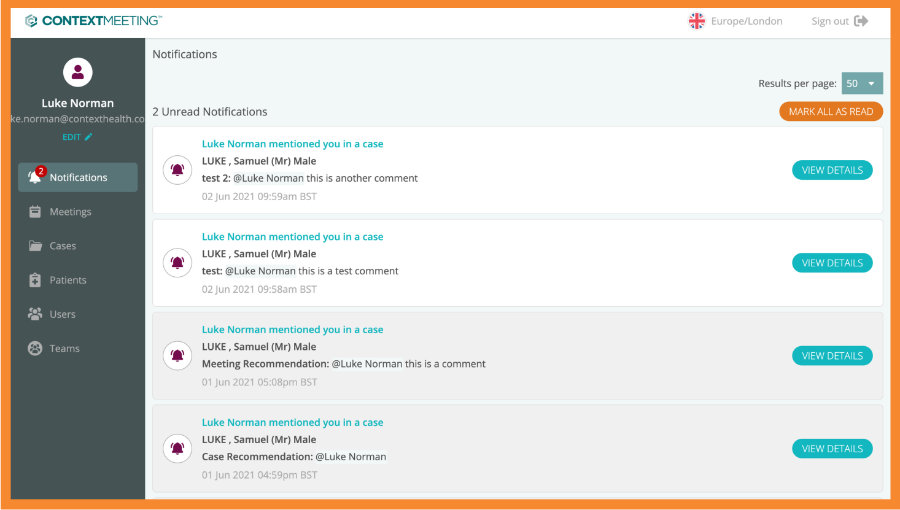 Context Meeting uses Email notifications to prompt users to login and review the case or meeting they have been associated with. This enables an end to end user experience whilst maintaining confidentiality outside the platform.
Meeting email notifications will allow you to add the event straight into your calendar (whether it be ical/ google calendar or outlook). From adding the meeting event to your calendar, you can access the meeting directly via a link.
To add the meeting event to the calendar, click 'Add to Calendar':